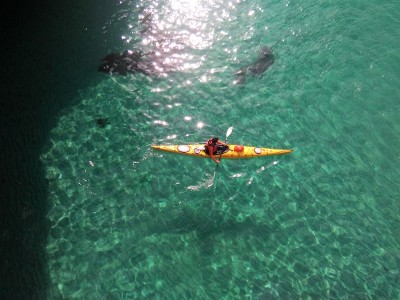 Day-to-Day Itinerary
This is a general description of the excitement you will experience each day.  Be aware that the specific days may switch around based on weather, or to optimize the logisitics.
Day 1 - Saturday -

May 20, 2017


Getting There

You will fly into Mahon Airport on the island of Menorca, Spain. After clearing customs and immigration you will be met by a Go Kayaking Tours representative. From there we'll board our charter van to take us to our hotel.  Dinner at a restaurant overlooking the Mediterrian Sea.

Day 2 -

Sunday -

May 21, 2017


After a leisurely breakfast at the hotel, we'll spend the day exploring the city so you can adjust to the time change and relax after your long flight. Lunch in town and dinner at the hotel.\
Let's go paddling

Today we'll start our adventure exploring the north (or south depending on the tides and weather) coast of Menorca.  Breakfast at the hotel, and lunch one the beach as we pack our gear for the next four days.  Today we'll paddle to an isolated beach and set up camp, sleeping under the stars by the water's edge.  Your guides will prepare a feast for dinner and serve it around the campfore.  
Day 3 -

Monday -

May 22, 2017


Day 4 -

Tuesday -

May 23, 2017


Paddling around

Once we feast on breakfast, we will continue our expedition.  The views will be stunning, and the company awesome.  Lunch and dinner at the campsite we set up for the night.
Day 5 -

Wednesday -

May 24, 2017


Paddling around

We'll awake to the glorious Mediterreian sun and have breakfast before heading back out along the coast.  Lunch and dinner will be served.
Day 6 -

Thursday -

May 25, 2017


Paddling around

Our paddling expedition comes to a close today and we'll be taken back to our hotel in Mahon for the night.  Breakfast at camp, lunch on the water, and dinner back in town at a local restaurant.  
Day 7 -

Friday -

May 26, 2017


Exploring and trekking
Time for a little landside adventure.  After breakfast in town, we will hike some of the beautiful landscape that makes up this island.  Lunch will be a picnic affair on the trail, and dinner back in town sampling yet another fine local establishment.  
Day 8 -

Saturday -

May 27, 2017


More watersports

A leisurely breakfast in town, then we will set off for the shore again, this time to do some snorkeling and relaxing on the beach.  Lunch and dinner provided.
Day 9 -

Sunday -

May 28, 2017


Getting home, or staying longer

After a lesiurely breakfast, we will shuttle you to the airport for your flight home.  Several options are available for staying longer, and if that interests you, please let us know and we can arrange an extension that meets your desires.  One option is to join me in Pamplona for the running of the bulls.