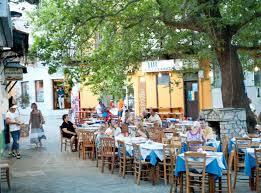 Day-to-Day Itinerary
This is a general description of the excitement you will experience each day.  Be aware that the specific days may switch around based on weather, or to optimize the logisitics.
Day 1 - Saturday -

June 10, 2017


Getting There

You will fly into Athens and then take the ferry to Skopelos.   After clearing customs and immigration you will be met by a Go Kayaking Tours representative at the airport to escort you to our hotel.

Day 2 -

Sunday -

June 11, 2017


After a leisurely breakfast at the hotel, we'll spend the day exploring the city so you can adjust to the time change and relax after your long flight. Lunch and dinner in town.
Let's go paddling

Today we'll start our adventure exploring the coast of Skopelos after a hearty breakfast at the hotel. Depending on the wind and tides we'll explore sea caves, or an isolated beach where we'll have lunch.  Today will be an easy paddle to get you use to the boats, and waters.
Day 3 -

Monday -

June 12, 2017


Day 4 -

Tuesday -

June 13, 2017


Paddling around

Once we feast on breakfast, we will continue our expedition, today exploring a different stretch of the coastline.
Day 5 -

Wednesday -

June 14, 2017


Hiking to the top of Mt. Palouki

We'll awake to the glorious Mediterreian sun and have breakfast before heading up the well groomed trail to the top of Mt. Palouki.  It is only 1,791 feet and the hike is easy.  Along the way we'll see the 
monasteries of St. Anna and the Holy Archangel.  On top of the mountain, we'll take in the vista of the seacoast and acres of virgin pine forest.  Lunch on the trail, and dinner in town.
Day 6 -

Thursday -

June 15, 2017


Paddling around

Back on the water today.  While exploring today, our guide will give us instruction on rescue techniques, and maybe even kayak surfing (depending on the waves).  Breakfast at the hotel, lunch and dinner in town. 
Day 7 -

Friday -

June 16, 2017


Paddling around
More sea caves, more rock-hopping, more awesome sights and memories to make.  Lunch will be a picnic affair a beach, and dinner back in town sampling yet another fine local establishment.  
Day 8 -

Saturday -

June 17, 2017


Saddle-up

A leisurely breakfast in town, then we will set off to explore some more of Skopelos by bicycle.  Lunch and dinner provided.
Day 9 -

Sunday -

June 18, 2017


After a lesiurely breakfast, we will shuttle you to the ferry terminal and then back to Athens for your flight home.